West Coast Wednesdays: West Coast Avengers Vol. 2, #88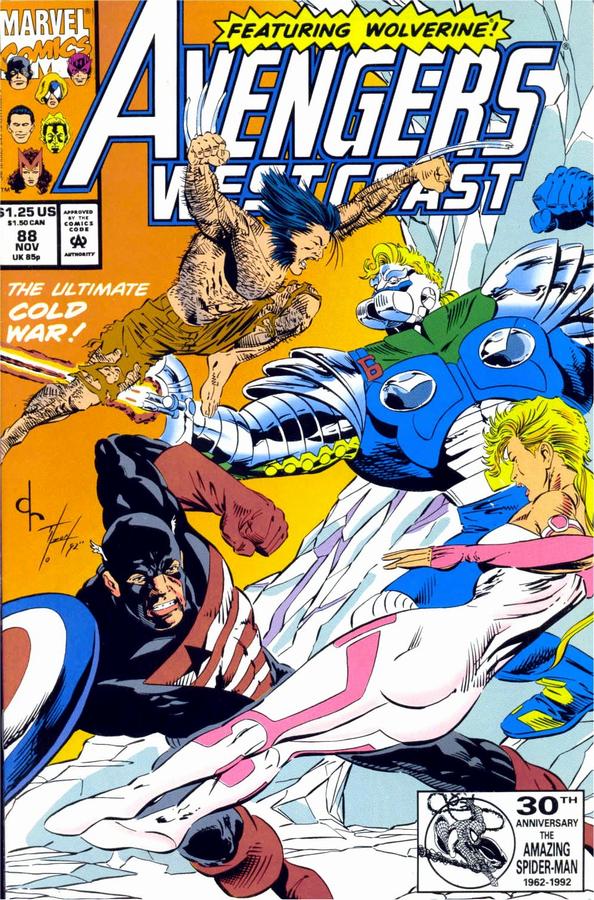 West Coast Avengers, Vol. 2, Issue 88 (December 1992)
WEST COAST CREDITS!
Writer: Roy and Dann Thomas
Penciler: David Ross
Inker:  Tim Dzon
WEST COAST SUMMARY!
With half the team in Canada trying to stop a new Cold War with Wolverine, the heroes at home have their own crisis to deal with.
WEST COAST THOUGHTS!
We start right where we left off last issue with Wolverine, Wonder Man, Scarlet Witch and U.S. Agent about to take on a twisted Russian version of the Fantastic Four. The fight pretty much goes the way you'd expect, with the heroes having the edge until Scarlet Witch is knocked out. After that, only Wolverine and U.S. Agent are conscious enough to flee and attempt a different tactic.
I thought that the title didn't give Tony's death the space it deserved in last month's issue, and while that continues here (they mention attending Tony's funeral and that's it), the impact of his loss is finally starting to be felt in the book. Which brings us to the best part of this issue. After pages of seeing Wolverine fighting alongside our heroes, we return to the compound where an angry Captain America is on the monitor demanding an update regarding what's going on in Canada from Hawkeye. An annoyed Hawkeye hangs up on Cap, muttering that he's tired of the team "playing second fiddle" – a sentiment every reader can agree with.
Mockingbird comes to Hawkeye saying that they need to talk, but they're interrupted by Rachel running into the room followed by Spider-Woman. And while the little girl doesn't bother either Hawkeye and Mockingbird, the news that she'll be living at the compound does. Then they stumble across a morose Miguel who announces that Tony's death has reminded him of how dangerous the job is and that he won't live forever, and so he has decided to attend college. And with that, he is leaving the team, though he'll be available if they were to ever need him. Just when it couldn't get any worse, Bobbi informs Clint that their divorce will be final in two weeks. And this is an abbreviated summary of what might be the best three pages of the entire run.
Now I give the book an awful lot of grief, but most of that is because it never quite figured out how to make its downtime work (like the baseball issues in X-Men) without resorting to broad soap-operatic cliches. And here the Thomas's have finally done the impossible and created compelling character moments with a believable emotional core. All of this is made even more interesting because the real story that should be shining here is Wolverine interacting with the team, but that falls flat.
Back in Canada, Wonder Man and Scarlet Witch are restrained while Dr. Volkh can reveal the mechanics of his entire plan. He releases an experimental ice crystal that once it's released in open air it uses heat to grow and multiply. And so the crystals begin to grow in the room, consuming our two heroes. That is, until U.S. Agent and Wolverine return. Wolverine goes after Volkh while U.S. Agent frees Wonder Man from the ice, who immediately tells him that Wanda should've been saved first before freeing her from the ice too.
Fight. Fight. Fight. Until Scarlet Witch uses her convenient hex powers on the original ice crystal to make it stop working and thus melting all of the ice it generated. With their plan ruined, the Russian villains flee in their hovercraft.
And that's how the new Cold War was ended by Wolverine and the West Coast Avengers. Oh…that would be a great comic book!
WEST BOAST OR ROAST?
Boast. I'm willing to overlook the generic story conflict and the missed opportunity of Wolverine's appearance all because of the three pages I talked about before.
WEST COAST SCENE (OF THE WEEK)!
This ending was lifted from John Carpenter's The Thing.
Previously on West Coast Wednesdays…
West Coast Avengers Vol. 1, #1
West Coast Avengers Vol. 1, #2
West Coast Avengers Vol. 1, #3
West Coast Avengers Vol. 1, #4
Avengers Vol. 1, #250
Iron Man Annual #7
West Coast Avenger Vol. 2, #1
The Vision and Scarlet Witch #1
West Coast Avengers Vol. 2, #2
The Vision and Scarlet Witch #2
West Coast Avengers Vol. 2, #3
West Coast Avengers Vol. 2, #4
West Coast Avengers Vol. 2, #5
West Coast Avengers Vol. 2, #6
West Coast Avengers Vol. 2, #7
West Coast Avengers Vol. 2, #8
West Coast Avengers Vol. 2, #9
West Coast Avengers Vol. 2, #10
West Coast Avengers Vol. 2, #11
West Coast Avengers Vol. 2, #12
West Coast Avengers Vol. 2, #13
Avengers Annual #15
West Coast Avengers Annual #1
West Coast Avengers Vol. 2, #14
West Coast Avengers Vol. 2, #15
West Coast Avengers Vol. 2, #16
West Coast Avengers Vol. 2, #17
West Coast Avengers Vol. 2, #18
West Coast Avengers Vol. 2, #19
West Coast Avengers Vol. 2, #20
West Coast Avengers Vol. 2, #21
West Coast Avengers Vol. 2, #22
West Coast Avengers Vol. 2, #23
West Coast Avengers Vol. 2, #24
West Coast Avengers Annual #2
Avengers Annual #16
Silver Surfer #3
West Coast Avengers Vol. 2, #25
West Coast Avengers Vol. 2, #26
West Coast Avengers Vol. 2, #27
West Coast Avengers Vol. 2, #28
West Coast Avengers Vol. 2, #29
West Coast Avengers Vol. 2, #30
West Coast Avengers Vol. 2, #31
West Coast Avengers Vol. 2, #32
West Coast Avengers Vol. 2, #33
West Coast Avengers Vol. 2, #34
West Coast Avengers Vol. 2, #35
West Coast Avengers Vol. 2, #36
West Coast Avengers Annual #3
West Coast Avengers Vol. 2, #37
West Coast Avengers Vol. 2, #38
West Coast Avengers Vol. 2, #39
West Coast Avengers Vol. 2, #40
West Coast Avengers Vol. 2, #41
West Coast Avengers Vol. 2, #42
West Coast Avengers Vol. 2, #43
West Coast Avengers Vol. 2, #44
West Coast Avengers Vol. 2, #45
West Coast Avengers Vol. 2, #46
West Coast Avengers Vol. 2, #47
West Coast Avengers Vol. 2, #48
West Coast Avengers Vol. 2, #49
West Coast Avengers Vol. 2, #50
West Coast Avengers Annual #4
West Coast Avengers Vol. 2, #51
West Coast Avengers Vol. 2, #52
West Coast Avengers Vol. 2, #53
Avengers Vol. 1, #312 
West Coast Avengers Vol. 2, #54
Avengers Vol. 1, #313 
West Coast Avengers Vol. 2, #55
West Coast Avengers Vol. 2, #56
West Coast Avengers Vol. 2, #57
West Coast Avengers Vol. 2, #58
West Coast Avengers Vol. 2, #59
West Coast Avengers Vol. 2, #60
West Coast Avengers Vol. 2, #61
West Coast Avengers Vol. 2, #62
West Coast Avengers Annual #5
West Coast Avengers Vol. 2, #63
West Coast Avengers Vol. 2, #64
West Coast Avengers Vol. 2, #65
Avengers Spotlight #38 
West Coast Avengers Vol. 2, #66
West Coast Avengers Vol. 2, #67
West Coast Avengers Vol. 2, #68
West Coast Avengers Vol. 2, #69
West Coast Avengers Vol. 2, #70
West Coast Avengers Vol. 2, #71
West Coast Avengers Vol. 2, #72
West Coast Avengers Vol. 2, #73
West Coast Avengers Vol. 2, #74
West Coast Avengers Annual #6
West Coast Avengers Vol. 2, #75
West Coast Avengers Vol. 2, #76
West Coast Avengers Vol. 2, #77
West Coast Avengers Vol. 2, #78
West Coast Avengers Vol. 2, #79
West Coast Avengers Vol. 2, #80
West Coast Avengers Vol. 2, #81
West Coast Avengers Vol. 2, #82
West Coast Avengers Vol. 2, #83
West Coast Avengers Vol. 2, #84
West Coast Avengers Vol. 2, #85
West Coast Avengers Vol. 2, #86
West Coast Avengers Annual #7
West Coast Avengers Vol. 2, #87