West Coast Wednesdays: West Coast Avengers Vol. 2, #89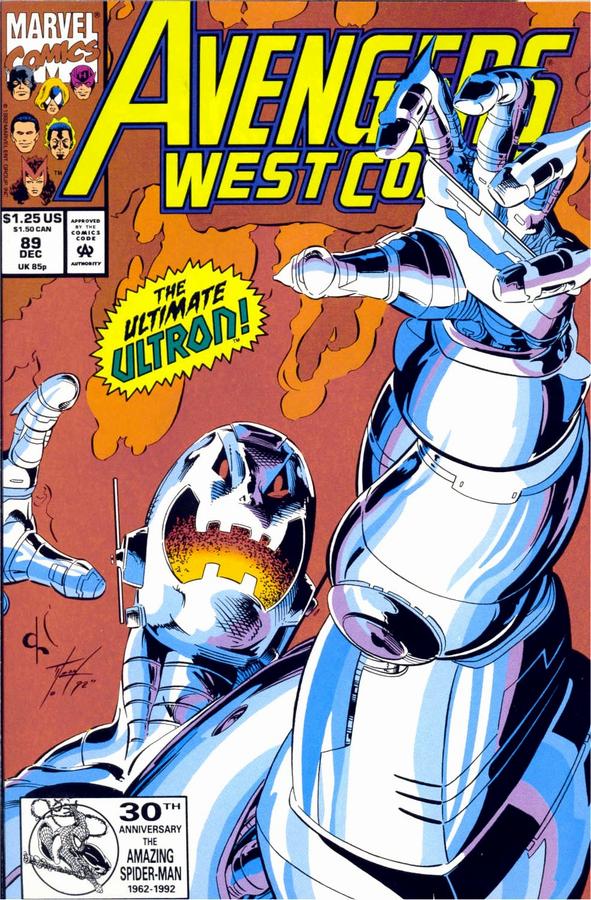 West Coast Avengers, Vol. 2, Issue 89 (December 1992)
WEST COAST CREDITS!
Writer: Roy and Dann Thomas
Penciler: David Ross
Inker:  Tim Dzon
WEST COAST SUMMARY!
Ultron is back! And this time he's Ultimate!
WEST COAST THOUGHTS!
At the Vault, Ultron is contained in solid adamantium casing and being guarded by Larson, the husband of a woman who was trampled in the Rose Parade that Ultron had previously mechanized (see West Coast Avengers #68). We know all of this because exposition forces people to talk to one another as if they've just met for the first time. Thanks to Ultron's hypnotic suggestion, Larson brought a portable video game with him that was full of robo-ticks, or Bytes, which is a nano-like swarm that eats the guard alive before freeing Ultron. While Ultron kills everyone who gets in his way, he's kind enough to talk out loud and inform everyone that we can finally do away with the numbering and simply refer to him as Ultimate Ultron.
Back at the compound, the team is trying to deal with U.S. Agent's involvement with the Commission. U.S. Agent doesn't see the problem, as he feels it doesn't matter what he does in his free time. However, the team does have issue with the fact that he took a quinjet with him to Canada to do the Commission's work (West Coast Avengers #87). And while there's talk about him being kicked off the team, the absence of Tony Stark means that there's no official chairman for the team at the moment.
Oh, the West Coast Avengers and their rules…
War Machine shows up to offer his membership to the team, but because the heroes have already had a run in with him they aren't comfortably having him around. Unless, of course, he decides to unmask and share his identity (something that never bothered anyone before). War Machine says he'll have to think it over, but for now the answer is a solid no.
Hawkeye takes a phone call for the absent Hank Pym from Dr. Myron Maclain, who is the inventor of adamantium. He claims that he has figured out a way to make adamantium cheaper and quicker, and he needs some protection. Hawkeye splits the team up with Mockingbird, Wonder Man, Spider-Woman and U.S. Agent going to see Maclain. When they arrive, Maclain tells them it was a false alarm and that they can leave. U.S. Agent doesn't buy Maclain's behavior and rushes him only to be thrown across the room by the doctor. Wonder Man attacks next and it's discovered that he's an organic robot, which can only mean on thing: Ultron's back!
U.S. Agent contacts Scarlet Witch to warn her of Ultron, but his signal is cut off as Ultron takes control of the compound's computers and security system to attack our favorite mutant witch. Scarlet Witch runs outside to the pool area where Carlos is playing with Rachel. She tells everyone to run when things start exploding.
And here's when things get serious. When Ultron disables Scarlet Witch by grabbing her cape and making her fall into the pool, Carlos confronts the robot with a pitchfork. And Ultron kills him.
Just when it looks like it's going to go all crazy-go-nuts, the Vision shows up to confront Ultron.
CARLOS IS DEAD!
I can't be there for you all right now to hold you and tell you everything's going to be okay. And honestly, with Carlos dead, even I'm not sure everything is going to be okay. Let's handle this with the dignity and respect we would back in 1992. Let's fondly remember Carlos' life while listening to Boyz II Men's "It's So Hard To Say Goodbye To Yesterday".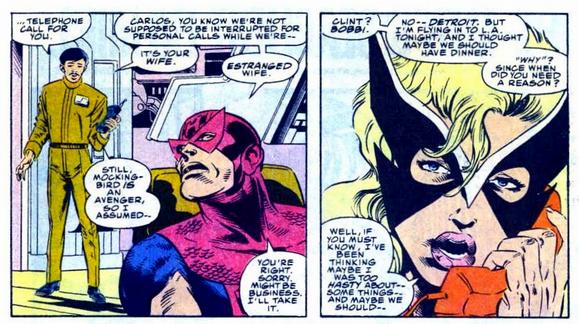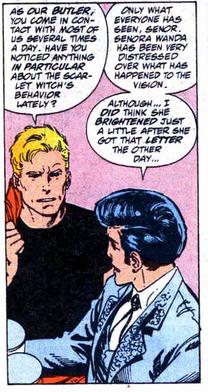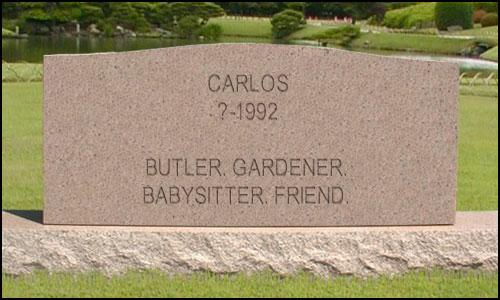 You will be missed.
WEST BOAST OR ROAST?
I don't know how I'm supposed to feel. Come on, people! CARLOS IS DEAD! DEAD!
WEST COAST SCENE (OF THE WEEK)!
Her cape is her weakness!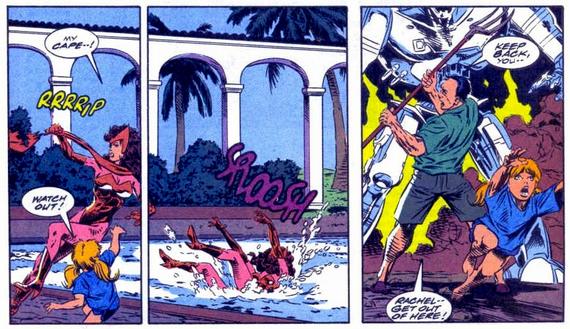 Previously on West Coast Wednesdays…
West Coast Avengers Vol. 1, #1
West Coast Avengers Vol. 1, #2
West Coast Avengers Vol. 1, #3
West Coast Avengers Vol. 1, #4
Avengers Vol. 1, #250
Iron Man Annual #7
West Coast Avenger Vol. 2, #1
The Vision and Scarlet Witch #1
West Coast Avengers Vol. 2, #2
The Vision and Scarlet Witch #2
West Coast Avengers Vol. 2, #3
West Coast Avengers Vol. 2, #4
West Coast Avengers Vol. 2, #5
West Coast Avengers Vol. 2, #6
West Coast Avengers Vol. 2, #7
West Coast Avengers Vol. 2, #8
West Coast Avengers Vol. 2, #9
West Coast Avengers Vol. 2, #10
West Coast Avengers Vol. 2, #11
West Coast Avengers Vol. 2, #12
West Coast Avengers Vol. 2, #13
Avengers Annual #15
West Coast Avengers Annual #1
West Coast Avengers Vol. 2, #14
West Coast Avengers Vol. 2, #15
West Coast Avengers Vol. 2, #16
West Coast Avengers Vol. 2, #17
West Coast Avengers Vol. 2, #18
West Coast Avengers Vol. 2, #19
West Coast Avengers Vol. 2, #20
West Coast Avengers Vol. 2, #21
West Coast Avengers Vol. 2, #22
West Coast Avengers Vol. 2, #23
West Coast Avengers Vol. 2, #24
West Coast Avengers Annual #2
Avengers Annual #16
Silver Surfer #3
West Coast Avengers Vol. 2, #25
West Coast Avengers Vol. 2, #26
West Coast Avengers Vol. 2, #27
West Coast Avengers Vol. 2, #28
West Coast Avengers Vol. 2, #29
West Coast Avengers Vol. 2, #30
West Coast Avengers Vol. 2, #31
West Coast Avengers Vol. 2, #32
West Coast Avengers Vol. 2, #33
West Coast Avengers Vol. 2, #34
West Coast Avengers Vol. 2, #35
West Coast Avengers Vol. 2, #36
West Coast Avengers Annual #3
West Coast Avengers Vol. 2, #37
West Coast Avengers Vol. 2, #38
West Coast Avengers Vol. 2, #39
West Coast Avengers Vol. 2, #40
West Coast Avengers Vol. 2, #41
West Coast Avengers Vol. 2, #42
West Coast Avengers Vol. 2, #43
West Coast Avengers Vol. 2, #44
West Coast Avengers Vol. 2, #45
West Coast Avengers Vol. 2, #46
West Coast Avengers Vol. 2, #47
West Coast Avengers Vol. 2, #48
West Coast Avengers Vol. 2, #49
West Coast Avengers Vol. 2, #50
West Coast Avengers Annual #4
West Coast Avengers Vol. 2, #51
West Coast Avengers Vol. 2, #52
West Coast Avengers Vol. 2, #53
Avengers Vol. 1, #312 
West Coast Avengers Vol. 2, #54
Avengers Vol. 1, #313 
West Coast Avengers Vol. 2, #55
West Coast Avengers Vol. 2, #56
West Coast Avengers Vol. 2, #57
West Coast Avengers Vol. 2, #58
West Coast Avengers Vol. 2, #59
West Coast Avengers Vol. 2, #60
West Coast Avengers Vol. 2, #61
West Coast Avengers Vol. 2, #62
West Coast Avengers Annual #5
West Coast Avengers Vol. 2, #63
West Coast Avengers Vol. 2, #64
West Coast Avengers Vol. 2, #65
Avengers Spotlight #38 
West Coast Avengers Vol. 2, #66
West Coast Avengers Vol. 2, #67
West Coast Avengers Vol. 2, #68
West Coast Avengers Vol. 2, #69
West Coast Avengers Vol. 2, #70
West Coast Avengers Vol. 2, #71
West Coast Avengers Vol. 2, #72
West Coast Avengers Vol. 2, #73
West Coast Avengers Vol. 2, #74
West Coast Avengers Annual #6
West Coast Avengers Vol. 2, #75
West Coast Avengers Vol. 2, #76
West Coast Avengers Vol. 2, #77
West Coast Avengers Vol. 2, #78
West Coast Avengers Vol. 2, #79
West Coast Avengers Vol. 2, #80
West Coast Avengers Vol. 2, #81
West Coast Avengers Vol. 2, #82
West Coast Avengers Vol. 2, #83
West Coast Avengers Vol. 2, #84
West Coast Avengers Vol. 2, #85
West Coast Avengers Vol. 2, #86
West Coast Avengers Annual #7
West Coast Avengers Vol. 2, #87
West Coast Avengers Vol. 2, #88