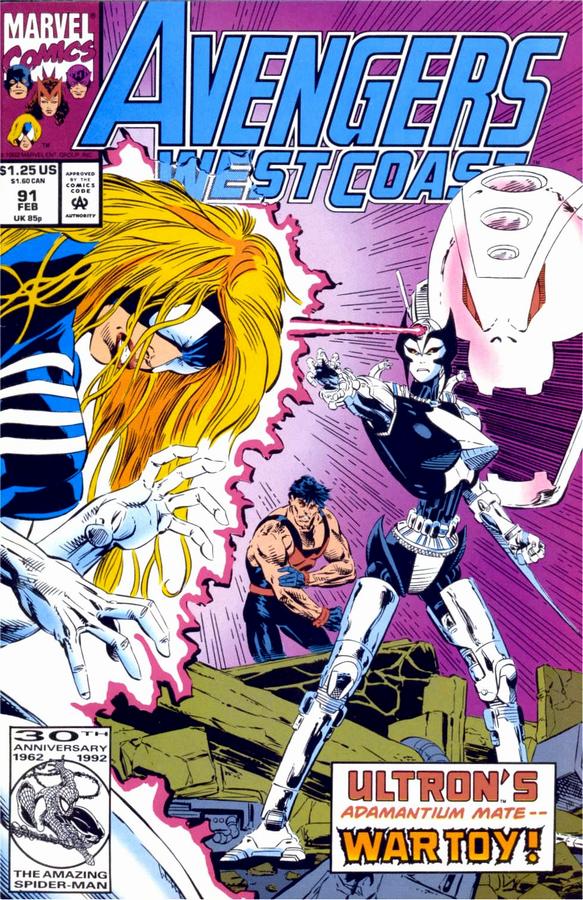 West Coast Avengers, Vol. 2, Issue 91 (February 1993)
WEST COAST CREDITS!
Writer: Roy and Dann Thomas
Penciler: David Ross
Inker:  Tim Dzon
WEST COAST SUMMARY!
It's the West Coast Avengers versus Ultron and his War Toy!
WEST COAST THOUGHTS!
It's nice to know that a robot isn't above having unrealistic expectations out of women. War Toy (boy, that name is something, isn't it?) has pointy breasts, is impossibly thin, has a memory bank that only goes back 10 minutes, and lives in a secret lair with walls covered in posters of New Kids on the Block. That's how evil Ultron is, people!
Once the team comprehends that War Toy is Mockingbird, the fight begins immediately. However, they're at a huge disadvantage. Goliath is knocked out first, followed by Vision, U.S. Agent, Wonder Man and Spider-Woman. Scarlet Witch gets the fight's biggest moment by flying the 14.5 ton quinjet with 34,000 pounds of thrust into Ultron and War Toy; however, it does nothing.
Goliath returns to the fight with a giant block of adamantium and begins to pound the crap out of the robots. Realizing that they're wasting valuable time, Ultron and War Toy flee.
Once inside Pym's lab, they discover that Mockingbird is alive and human, that Ultron simply copied her brainwaves and was done with her. And for the first time since West Coast Avengers #33, they kiss: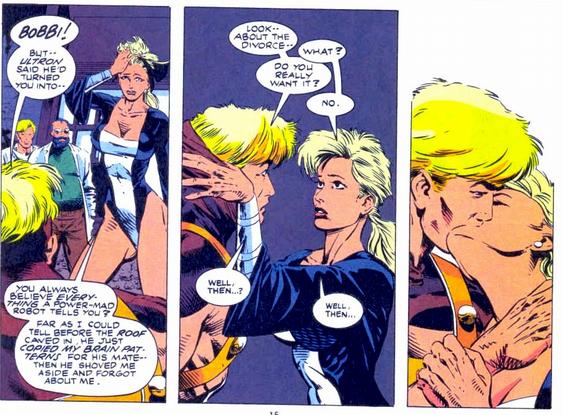 YAY!
It turns out that Ultron was heading the Sun Lake Weapon's Center where the military tests all the most powerful weapons, many of which they claim do not exist, where Ultron could set off a "Super Chernobyl". The team jump into a new and improved R.O.V.E.R. to catch up with the robotic pair.
The robotic pair, however, aren't exactly getting along. In fact, they're bickering. It all starts because War Toy keeps calling Ultron "Ulty." It seems that Ultron put a little too much of Mockingbird's brainwaves inside War Toy. On top of that, she doesn't want to follow his orders. She doesn't agree with the way Ultron wants to end all organic life on the planet. She has, as she claims, more sense of fun. War Toy says, "I prefer years of destruction to a few seconds of 'bang'!"
Hmm…there's nothing sexual there.
Once the team arrives on the base, they come up with a plan. They tie up the Vision to the head of a nuclear missile. This gets the attention of Ultron and War Toy, who are both aware that it's a trap, but feel there's nothing that can stop them. When they get close, they realize that the Vision's body has become an electromagnet that attracts adamantium. With the villains trapped on the warhead, it's launched into space where it explodes. Fortunately the Vision phased through the missile and returned safely.
The issue ends with everyone celebrating sprinkled with the traditional moodiness we've come to expect from the West Coast Avengers. Hawkeye is pumped up and wants a party. Scarlet Witch has finally accepted that the man she married will never return. And Wonder Man wishes he could comfort Wanda, or at least take her out for tacos.
WEST BOAST OR ROAST?
Boast. I love this books again.
WEST COAST SCENE (OF THE WEEK)!
So that's where it came from…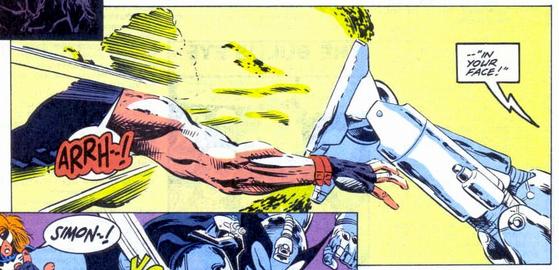 Previously on West Coast Wednesdays…
West Coast Avengers Vol. 1, #1
West Coast Avengers Vol. 1, #2
West Coast Avengers Vol. 1, #3
West Coast Avengers Vol. 1, #4
Avengers Vol. 1, #250
Iron Man Annual #7
West Coast Avenger Vol. 2, #1
The Vision and Scarlet Witch #1
West Coast Avengers Vol. 2, #2
The Vision and Scarlet Witch #2
West Coast Avengers Vol. 2, #3
West Coast Avengers Vol. 2, #4
West Coast Avengers Vol. 2, #5
West Coast Avengers Vol. 2, #6
West Coast Avengers Vol. 2, #7
West Coast Avengers Vol. 2, #8
West Coast Avengers Vol. 2, #9
West Coast Avengers Vol. 2, #10
West Coast Avengers Vol. 2, #11
West Coast Avengers Vol. 2, #12
West Coast Avengers Vol. 2, #13
Avengers Annual #15
West Coast Avengers Annual #1
West Coast Avengers Vol. 2, #14
West Coast Avengers Vol. 2, #15
West Coast Avengers Vol. 2, #16
West Coast Avengers Vol. 2, #17
West Coast Avengers Vol. 2, #18
West Coast Avengers Vol. 2, #19
West Coast Avengers Vol. 2, #20
West Coast Avengers Vol. 2, #21
West Coast Avengers Vol. 2, #22
West Coast Avengers Vol. 2, #23
West Coast Avengers Vol. 2, #24
West Coast Avengers Annual #2
Avengers Annual #16
Silver Surfer #3
West Coast Avengers Vol. 2, #25
West Coast Avengers Vol. 2, #26
West Coast Avengers Vol. 2, #27
West Coast Avengers Vol. 2, #28
West Coast Avengers Vol. 2, #29
West Coast Avengers Vol. 2, #30
West Coast Avengers Vol. 2, #31
West Coast Avengers Vol. 2, #32
West Coast Avengers Vol. 2, #33
West Coast Avengers Vol. 2, #34
West Coast Avengers Vol. 2, #35
West Coast Avengers Vol. 2, #36
West Coast Avengers Annual #3
West Coast Avengers Vol. 2, #37
West Coast Avengers Vol. 2, #38
West Coast Avengers Vol. 2, #39
West Coast Avengers Vol. 2, #40
West Coast Avengers Vol. 2, #41
West Coast Avengers Vol. 2, #42
West Coast Avengers Vol. 2, #43
West Coast Avengers Vol. 2, #44
West Coast Avengers Vol. 2, #45
West Coast Avengers Vol. 2, #46
West Coast Avengers Vol. 2, #47
West Coast Avengers Vol. 2, #48
West Coast Avengers Vol. 2, #49
West Coast Avengers Vol. 2, #50
West Coast Avengers Annual #4
West Coast Avengers Vol. 2, #51
West Coast Avengers Vol. 2, #52
West Coast Avengers Vol. 2, #53
Avengers Vol. 1, #312 
West Coast Avengers Vol. 2, #54
Avengers Vol. 1, #313 
West Coast Avengers Vol. 2, #55
West Coast Avengers Vol. 2, #56
West Coast Avengers Vol. 2, #57
West Coast Avengers Vol. 2, #58
West Coast Avengers Vol. 2, #59
West Coast Avengers Vol. 2, #60
West Coast Avengers Vol. 2, #61
West Coast Avengers Vol. 2, #62
West Coast Avengers Annual #5
West Coast Avengers Vol. 2, #63
West Coast Avengers Vol. 2, #64
West Coast Avengers Vol. 2, #65
Avengers Spotlight #38 
West Coast Avengers Vol. 2, #66
West Coast Avengers Vol. 2, #67
West Coast Avengers Vol. 2, #68
West Coast Avengers Vol. 2, #69
West Coast Avengers Vol. 2, #70
West Coast Avengers Vol. 2, #71
West Coast Avengers Vol. 2, #72
West Coast Avengers Vol. 2, #73
West Coast Avengers Vol. 2, #74
West Coast Avengers Annual #6
West Coast Avengers Vol. 2, #75
West Coast Avengers Vol. 2, #76
West Coast Avengers Vol. 2, #77
West Coast Avengers Vol. 2, #78
West Coast Avengers Vol. 2, #79
West Coast Avengers Vol. 2, #80
West Coast Avengers Vol. 2, #81
West Coast Avengers Vol. 2, #82
West Coast Avengers Vol. 2, #83
West Coast Avengers Vol. 2, #84
West Coast Avengers Vol. 2, #85
West Coast Avengers Vol. 2, #86
West Coast Avengers Annual #7
West Coast Avengers Vol. 2, #87
West Coast Avengers Vol. 2, #88
West Coast Avengers Vol. 2, #89
West Coast Avengers Vol. 2, #90