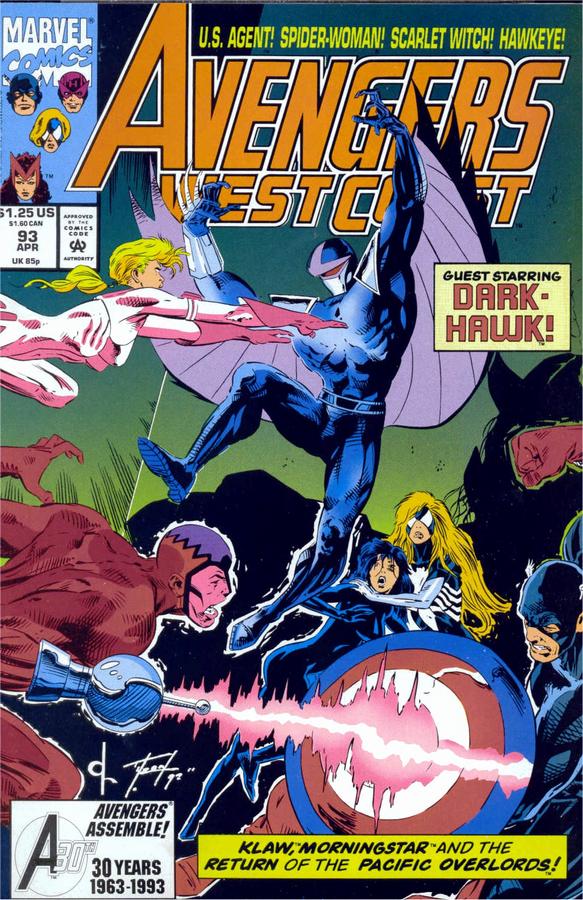 West Coast Avengers, Vol. 2, Issue 93 (April 1993)
WEST COAST CREDITS!
Writer: Roy and Dann Thomas
Penciler: David Ross
Inker:  Tim Dzon and Aaron McClellan
WEST COAST SUMMARY!
The team splits up to deal with the return of the Pacific Overlords and some Battledroids. Plus, the return of Iron Man?
WEST COAST THOUGHTS!
Kuroko of the Pacific Overlords tells the team what's been happening with Doctor Demonicus and his island republic Demonica. It seems like Doctor Demonicus was on the road to being a decent human being, promising the U.N. to share all of Demonica's mineral wealth. That is, until one day he entered a newly-discovered cave and came out hours later a changed man. From that moment on he began treating people terribly, had a falling out with the U.N., and then had his Overlords attack and board a plane full of Wakandans in order to free the captured Klaw. Once Klaw was brought to Demonica, Doctor Demonicus welcomed him by announcing that he was now the country's new vice-president.
Kuroko was suspicious of Doctor Demonicus' behavior and she was troubled by the devices on the foreheads of Jawbeaker and Cybertooth which seemed to make them more obedient. When Kain is invited to the mysterious cave with Doctor Demonicus, Kuroko follows them. Once there, she sees a strange altar and ritual. A device similar to the one Jawbeaker and Cybertooth wears is placed on Kain's forehead and he begins to shout in an unknown tongue. Kuroko is spotted and Doctor Demonicus releases a small dragon-like creature to attack. She eventually escapes in a stolen plane, bruised and battered, and sets course for the West Coast Avengers.
Upon hearing the story in the kitchen, the team wonders if it might be a trap. But before they can confirm any of the story with the U.N., Darkhawk appears. When I say appears, I mean he literally appears out of nowhere. U.S. Agent mentions that someone is in the shadows of the well-lit kitchen, and then Darkhawk is suddenly standing in the middle between everyone. Not sure if it's terrible writing or just a terrible layout. Anyway, Spider-Woman has been keeping in touch with Darkhawk since their adventure together (see West Coast Avengers Annual #7) and she invited him to hang out with the team. She figured with Wonder Man and Iron Man gone, they could use the extra power.
And with that, Darkhawk informs everyone that Iron Man is right now battling a bunch of Battledroids – he saw it on TV! The team freaks out and rushes to their biggest television set and watches the news. They discover that the Los Angeles headquarters of Stark International is under attack (like Darkhawk said!), but more importantly, Tony Stark is alive (I didn't see that coming!).
Before the team can celebrate, the Pacific Overlords attack. Actually it's Klaw and Morningstar (from West Coast Avengers #88) on their behalf. This allows fans to learn the answers to some important questions like: Who would win in a fight between Klaw and Spider-Woman? Spider-Woman. Who would win in a fight between Morningstar and U.S. Agent? No one. Naturally, the villains escape and in the process kidnap Kuroko.
U.S. Agent, Mockingbird and Goliath bum a ride on Pym's ROVER and head over to Stark International to steal a quinjet (since all of the team's quinjets were recently destroyed (see West Coast Avengers #87 and West Coast Avengers #89). Naturally, this allows the three heroes to engage in another fight, this time with the aforementioned Battledroids. See, it all ties together!
The issue ends with Doctor Demonicus capturing a plane that violated Demonica's air space. More importantly, the issue ends with a reminder that this is, in fact, 1993.
 How amazing is that?
NOT!
 WEST BOAST OR ROAST?
Roast. And we're back to being terrible again. I miss Ultron.
WEST COAST SCENE (OF THE WEEK)!
Thanks for the hand!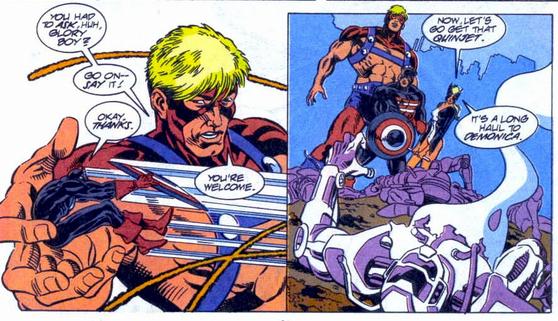 Previously on West Coast Wednesdays…
West Coast Avengers Vol. 1, #1
West Coast Avengers Vol. 1, #2
West Coast Avengers Vol. 1, #3
West Coast Avengers Vol. 1, #4
Avengers Vol. 1, #250
Iron Man Annual #7
West Coast Avenger Vol. 2, #1
The Vision and Scarlet Witch #1
West Coast Avengers Vol. 2, #2
The Vision and Scarlet Witch #2
West Coast Avengers Vol. 2, #3
West Coast Avengers Vol. 2, #4
West Coast Avengers Vol. 2, #5
West Coast Avengers Vol. 2, #6
West Coast Avengers Vol. 2, #7
West Coast Avengers Vol. 2, #8
West Coast Avengers Vol. 2, #9
West Coast Avengers Vol. 2, #10
West Coast Avengers Vol. 2, #11
West Coast Avengers Vol. 2, #12
West Coast Avengers Vol. 2, #13
Avengers Annual #15
West Coast Avengers Annual #1
West Coast Avengers Vol. 2, #14
West Coast Avengers Vol. 2, #15
West Coast Avengers Vol. 2, #16
West Coast Avengers Vol. 2, #17
West Coast Avengers Vol. 2, #18
West Coast Avengers Vol. 2, #19
West Coast Avengers Vol. 2, #20
West Coast Avengers Vol. 2, #21
West Coast Avengers Vol. 2, #22
West Coast Avengers Vol. 2, #23
West Coast Avengers Vol. 2, #24
West Coast Avengers Annual #2
Avengers Annual #16
Silver Surfer #3
West Coast Avengers Vol. 2, #25
West Coast Avengers Vol. 2, #26
West Coast Avengers Vol. 2, #27
West Coast Avengers Vol. 2, #28
West Coast Avengers Vol. 2, #29
West Coast Avengers Vol. 2, #30
West Coast Avengers Vol. 2, #31
West Coast Avengers Vol. 2, #32
West Coast Avengers Vol. 2, #33
West Coast Avengers Vol. 2, #34
West Coast Avengers Vol. 2, #35
West Coast Avengers Vol. 2, #36
West Coast Avengers Annual #3
West Coast Avengers Vol. 2, #37
West Coast Avengers Vol. 2, #38
West Coast Avengers Vol. 2, #39
West Coast Avengers Vol. 2, #40
West Coast Avengers Vol. 2, #41
West Coast Avengers Vol. 2, #42
West Coast Avengers Vol. 2, #43
West Coast Avengers Vol. 2, #44
West Coast Avengers Vol. 2, #45
West Coast Avengers Vol. 2, #46
West Coast Avengers Vol. 2, #47
West Coast Avengers Vol. 2, #48
West Coast Avengers Vol. 2, #49
West Coast Avengers Vol. 2, #50
West Coast Avengers Annual #4
West Coast Avengers Vol. 2, #51
West Coast Avengers Vol. 2, #52
West Coast Avengers Vol. 2, #53
Avengers Vol. 1, #312 
West Coast Avengers Vol. 2, #54
Avengers Vol. 1, #313 
West Coast Avengers Vol. 2, #55
West Coast Avengers Vol. 2, #56
West Coast Avengers Vol. 2, #57
West Coast Avengers Vol. 2, #58
West Coast Avengers Vol. 2, #59
West Coast Avengers Vol. 2, #60
West Coast Avengers Vol. 2, #61
West Coast Avengers Vol. 2, #62
West Coast Avengers Annual #5
West Coast Avengers Vol. 2, #63
West Coast Avengers Vol. 2, #64
West Coast Avengers Vol. 2, #65
Avengers Spotlight #38 
West Coast Avengers Vol. 2, #66
West Coast Avengers Vol. 2, #67
West Coast Avengers Vol. 2, #68
West Coast Avengers Vol. 2, #69
West Coast Avengers Vol. 2, #70
West Coast Avengers Vol. 2, #71
West Coast Avengers Vol. 2, #72
West Coast Avengers Vol. 2, #73
West Coast Avengers Vol. 2, #74
West Coast Avengers Annual #6
West Coast Avengers Vol. 2, #75
West Coast Avengers Vol. 2, #76
West Coast Avengers Vol. 2, #77
West Coast Avengers Vol. 2, #78
West Coast Avengers Vol. 2, #79
West Coast Avengers Vol. 2, #80
West Coast Avengers Vol. 2, #81
West Coast Avengers Vol. 2, #82
West Coast Avengers Vol. 2, #83
West Coast Avengers Vol. 2, #84
West Coast Avengers Vol. 2, #85
West Coast Avengers Vol. 2, #86
West Coast Avengers Annual #7
West Coast Avengers Vol. 2, #87
West Coast Avengers Vol. 2, #88
West Coast Avengers Vol. 2, #89
West Coast Avengers Vol. 2, #90
West Coast Avengers Vol. 2, #91
West Coast Avengers Vol. 2, #92