West Coast Wednesdays: West Coast Avengers Vol. 2, #96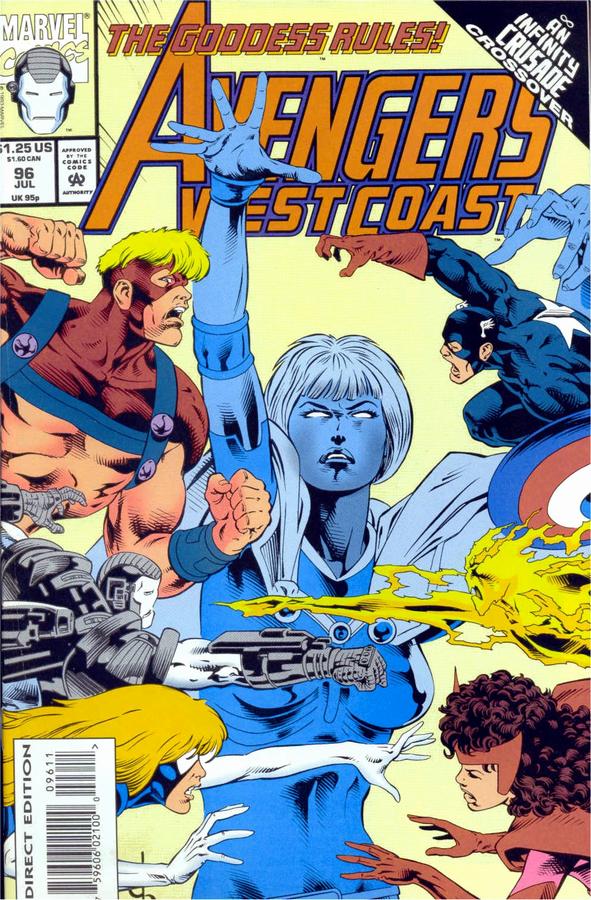 West Coast Avengers, Vol. 2, Issue 96 (July 1993)
WEST COAST CREDITS!
Writer: Roy and Dann Thomas
Penciler: Andrew Currie
Inker:  Don Hudson
WEST COAST SUMMARY!
An Infinity Crusade crossover! It's West Coast Avengers versus West Coast Avengers! Because…why not?
WEST COAST THOUGHTS!
And we're sucked back into a major event. This time it's Infinity Crusade, the sequel to Infinity Gauntlet (which I remember being pretty good) and Infinity War. Normally this would be the moment I'd give you a little background on what the event was about, but there's no need. Here's all you need to know: for the purposes of this crossover, some heroes turn evil and they will fight the other heroes.
Spider-Woman and Goliath are sparring outside of their destroyed compound, so it's no big deal when she throws his giant body into the mansion and causes even more property damage. Just when it looks like we'll finally know who is stronger (because this is the Marvel universe and that's the only thing that's important), War Machine enters and knocks Goliath down. Why would he do this? Well, it turns out that under the debris they've been fighting on is an unconscious Roberto, their gardener.

The team wonders if he'd been there since the Overlords attacked two issues ago (way to pay attention to the hired help, guys!). When Roberto wakes up, he tells them that it was Miguel, the Living Lightning, who attacked him!
NOOOOOOOOOOO!
With this information, they decide they need to pull the team together and investigate. War Machine agrees to get U.S. Agent from a pistol range in Beverly Hills. Goliath and Mockingbird are going to get Scarlet Witch from her apartment. And Spider-Woman agrees to go to Miguel's church to see if he's there.
At Scarlet Witch's apartment, Wanda is acting strangely when our favorite married couple arrive. When they try to grab her, she uses her hex powers to make Goliath grow uncontrollably. He ends up destroying the entire apartment building and causes a car crash. While they're dealing with the property damage and the safety of the civilians, Wanda makes an escape.
At the pistol range, U.S. Agent is also acting weird. When War Machine tries to detain him, U.S. Agent brings the whole building down around them. With War Machine holding the walls up for the civilians to escape, U.S. Agent makes his escape.
I'm seeing a pattern here.
At Miguel's church, Spider-Woman discovers the Living Lightning who has been praying there for over an hour, according to the priest. When she approaches him, he attacks, destroying the church and stunning Spider-Woman with his lightning blasts. While she's being cradled by the priest, the rest of the team shows up to see what's going on. The Living Lighting, of course, escapes.
The Vision contacts the team and lets them know that the same thing has been happening to the heroes not only on the east coast, but the entire world. He asks for them to send a representative to the Fantastic Four's headquarters (which Spider-Woman volunteers for) to deal with the global crisis.
Keep in mind, an unknown threat is turning some of the most powerful heroes into villains all over the world. Everything is seemingly at stake. So what's Goliath and Mockingbird decide to do?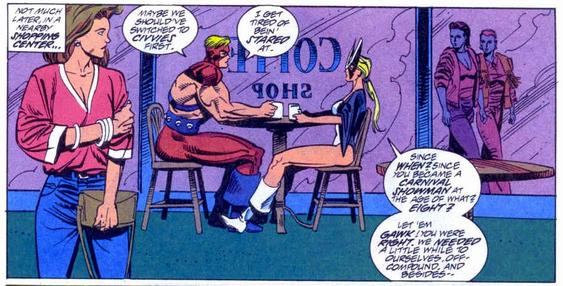 This is why no one respects you guys!
But before they can get any quality time together (and they sure deserve it!), the coffee shop is attacked by Quantum's Power Platoon. You remember Quantum, right? He first appeared in West Coast Avengers #12.
End story.
WEST BOAST OR ROAST?
Roast. I miss Ross' art as much as I miss the days before this title got sucked into every major Marvel event.
WEST COAST SCENE (OF THE WEEK)!
Please point to the Spider-Man doll and show us where he touched you.
Previously on West Coast Wednesdays…
West Coast Avengers Vol. 1, #1
West Coast Avengers Vol. 1, #2
West Coast Avengers Vol. 1, #3
West Coast Avengers Vol. 1, #4
Avengers Vol. 1, #250
Iron Man Annual #7
West Coast Avenger Vol. 2, #1
The Vision and Scarlet Witch #1
West Coast Avengers Vol. 2, #2
The Vision and Scarlet Witch #2
West Coast Avengers Vol. 2, #3
West Coast Avengers Vol. 2, #4
West Coast Avengers Vol. 2, #5
West Coast Avengers Vol. 2, #6
West Coast Avengers Vol. 2, #7
West Coast Avengers Vol. 2, #8
West Coast Avengers Vol. 2, #9
West Coast Avengers Vol. 2, #10
West Coast Avengers Vol. 2, #11
West Coast Avengers Vol. 2, #12
West Coast Avengers Vol. 2, #13
Avengers Annual #15
West Coast Avengers Annual #1
West Coast Avengers Vol. 2, #14
West Coast Avengers Vol. 2, #15
West Coast Avengers Vol. 2, #16
West Coast Avengers Vol. 2, #17
West Coast Avengers Vol. 2, #18
West Coast Avengers Vol. 2, #19
West Coast Avengers Vol. 2, #20
West Coast Avengers Vol. 2, #21
West Coast Avengers Vol. 2, #22
West Coast Avengers Vol. 2, #23
West Coast Avengers Vol. 2, #24
West Coast Avengers Annual #2
Avengers Annual #16
Silver Surfer #3
West Coast Avengers Vol. 2, #25
West Coast Avengers Vol. 2, #26
West Coast Avengers Vol. 2, #27
West Coast Avengers Vol. 2, #28
West Coast Avengers Vol. 2, #29
West Coast Avengers Vol. 2, #30
West Coast Avengers Vol. 2, #31
West Coast Avengers Vol. 2, #32
West Coast Avengers Vol. 2, #33
West Coast Avengers Vol. 2, #34
West Coast Avengers Vol. 2, #35
West Coast Avengers Vol. 2, #36
West Coast Avengers Annual #3
West Coast Avengers Vol. 2, #37
West Coast Avengers Vol. 2, #38
West Coast Avengers Vol. 2, #39
West Coast Avengers Vol. 2, #40
West Coast Avengers Vol. 2, #41
West Coast Avengers Vol. 2, #42
West Coast Avengers Vol. 2, #43
West Coast Avengers Vol. 2, #44
West Coast Avengers Vol. 2, #45
West Coast Avengers Vol. 2, #46
West Coast Avengers Vol. 2, #47
West Coast Avengers Vol. 2, #48
West Coast Avengers Vol. 2, #49
West Coast Avengers Vol. 2, #50
West Coast Avengers Annual #4
West Coast Avengers Vol. 2, #51
West Coast Avengers Vol. 2, #52
West Coast Avengers Vol. 2, #53
Avengers Vol. 1, #312 
West Coast Avengers Vol. 2, #54
Avengers Vol. 1, #313 
West Coast Avengers Vol. 2, #55
West Coast Avengers Vol. 2, #56
West Coast Avengers Vol. 2, #57
West Coast Avengers Vol. 2, #58
West Coast Avengers Vol. 2, #59
West Coast Avengers Vol. 2, #60
West Coast Avengers Vol. 2, #61
West Coast Avengers Vol. 2, #62
West Coast Avengers Annual #5
West Coast Avengers Vol. 2, #63
West Coast Avengers Vol. 2, #64
West Coast Avengers Vol. 2, #65
Avengers Spotlight #38 
West Coast Avengers Vol. 2, #66
West Coast Avengers Vol. 2, #67
West Coast Avengers Vol. 2, #68
West Coast Avengers Vol. 2, #69
West Coast Avengers Vol. 2, #70
West Coast Avengers Vol. 2, #71
West Coast Avengers Vol. 2, #72
West Coast Avengers Vol. 2, #73
West Coast Avengers Vol. 2, #74
West Coast Avengers Annual #6
West Coast Avengers Vol. 2, #75
West Coast Avengers Vol. 2, #76
West Coast Avengers Vol. 2, #77
West Coast Avengers Vol. 2, #78
West Coast Avengers Vol. 2, #79
West Coast Avengers Vol. 2, #80
West Coast Avengers Vol. 2, #81
West Coast Avengers Vol. 2, #82
West Coast Avengers Vol. 2, #83
West Coast Avengers Vol. 2, #84
West Coast Avengers Vol. 2, #85
West Coast Avengers Vol. 2, #86
West Coast Avengers Annual #7
West Coast Avengers Vol. 2, #87
West Coast Avengers Vol. 2, #88
West Coast Avengers Vol. 2, #89
West Coast Avengers Vol. 2, #90
West Coast Avengers Vol. 2, #91
West Coast Avengers Vol. 2, #92
West Coast Avengers Vol. 2, #93
West Coast Avengers Vol. 2, #94
West Coast Avengers Vol. 2, #95