West Coast Wednesdays: West Coast Avengers Vol. 2, #97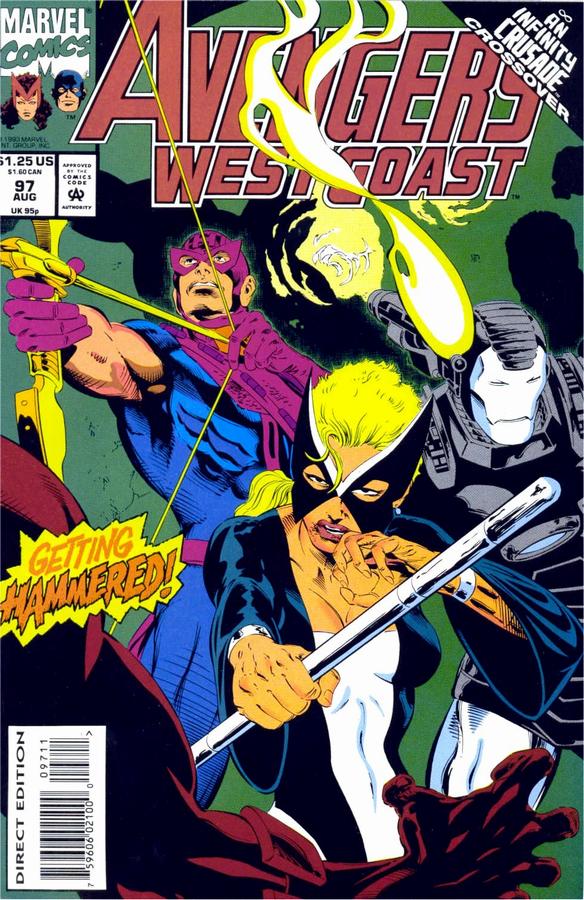 West Coast Avengers, Vol. 2, Issue 97 (August 1993)
WEST COAST CREDITS!
Writer: Roy Thomas
Penciler: Andrew Currie
Inker:  Don Hudson
WEST COAST SUMMARY!
Mockingbird, Goliath/Hawkeye and War Machine are trapped inside a crossover issue.
WEST COAST THOUGHTS!
Here we are with the second Infinity Crusade crossover issue. We're not only missing the usual penciler and inker, but Danni Thomas is no where to be seen either. I can only assume that they were inflicted by the same thing that forced Scarlet Witch, Living Lightning and U.S Agent off the book.
When we last left Goliath and Mockingbird, they decided to respond to a globe threatening crisis by grabbing a quick cup of coffee at a mall. Quantum's Power Platoon appeared to be as offended as I was and they have attacked our heroes. The Power Platoon all look like Quantum (you remember him, right? From West Coast Avengers #12), but each one has specific powers. Basically, imagine clones of Superman, each with a specific power. Despite some fancy footwork, Mockingbird and Goliath do such a terrible job, a police officer steps in.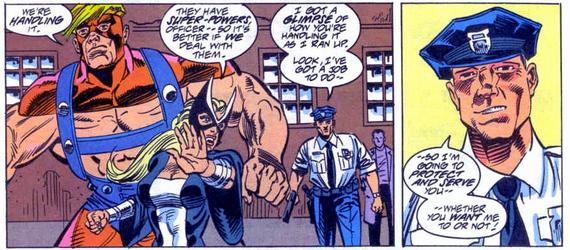 However, when he shoots at one of the Power Platoon, the bullet is hurled right back at him.
Seeing that they can't win this fight, they contact War Machine. When he arrives, he makes a difference, but it's clearly not enough. Finally Clint realizes he needs to return to his old bag of tricks. He runs to his car and pulls out his bow and arrow (don't leave home with it) and shoots off some smoke arrows. This disables the Power Platoon by robbing the creatures of sunlight (hey, like I said, think Superman!). War Machine wraps the Platoon up in a metallic awning, pokes a few holes for air, and the crisis is contained by page 16.
Once back at the compound, Clint decides that he's tired of being Goliath and becomes Hawkeye again. And then the real Quantum (all three of intangible versions of him – please don't make me explain why) shows up looking for his Platoon. Because he's unable to touch our heroes, he brought along Wundarr, who is under Quantum's mental control. The Platoon is eventually freed and things go from bad to worse. Or, as Hawkeye puts it:
But the fight is cut short when Wundarr and the Platoon suddenly lose interest and run away. "We…just don't feel like hurting anyone we don't have to," says Wundarr as he walks away. Quantum is livid, but there's nothing he can do.
Spider-Woman calls and tells everyone that something very similar has happened in other places (meaning: read the main event, not just the crossover issues). The issue ends with Mockingbird wishing that they had the answers to what was going on, perfectly reflecting the inner monologue of every reader.
WEST BOAST OR ROAST?
Roast. Please kill me.
WEST COAST SCENE (OF THE WEEK)!
Any size?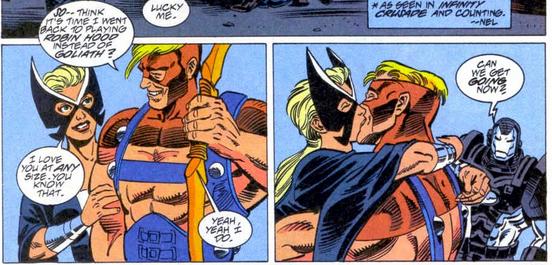 Previously on West Coast Wednesdays…
West Coast Avengers Vol. 1, #1
West Coast Avengers Vol. 1, #2
West Coast Avengers Vol. 1, #3
West Coast Avengers Vol. 1, #4
Avengers Vol. 1, #250
Iron Man Annual #7
West Coast Avenger Vol. 2, #1
The Vision and Scarlet Witch #1
West Coast Avengers Vol. 2, #2
The Vision and Scarlet Witch #2
West Coast Avengers Vol. 2, #3
West Coast Avengers Vol. 2, #4
West Coast Avengers Vol. 2, #5
West Coast Avengers Vol. 2, #6
West Coast Avengers Vol. 2, #7
West Coast Avengers Vol. 2, #8
West Coast Avengers Vol. 2, #9
West Coast Avengers Vol. 2, #10
West Coast Avengers Vol. 2, #11
West Coast Avengers Vol. 2, #12
West Coast Avengers Vol. 2, #13
Avengers Annual #15
West Coast Avengers Annual #1
West Coast Avengers Vol. 2, #14
West Coast Avengers Vol. 2, #15
West Coast Avengers Vol. 2, #16
West Coast Avengers Vol. 2, #17
West Coast Avengers Vol. 2, #18
West Coast Avengers Vol. 2, #19
West Coast Avengers Vol. 2, #20
West Coast Avengers Vol. 2, #21
West Coast Avengers Vol. 2, #22
West Coast Avengers Vol. 2, #23
West Coast Avengers Vol. 2, #24
West Coast Avengers Annual #2
Avengers Annual #16
Silver Surfer #3
West Coast Avengers Vol. 2, #25
West Coast Avengers Vol. 2, #26
West Coast Avengers Vol. 2, #27
West Coast Avengers Vol. 2, #28
West Coast Avengers Vol. 2, #29
West Coast Avengers Vol. 2, #30
West Coast Avengers Vol. 2, #31
West Coast Avengers Vol. 2, #32
West Coast Avengers Vol. 2, #33
West Coast Avengers Vol. 2, #34
West Coast Avengers Vol. 2, #35
West Coast Avengers Vol. 2, #36
West Coast Avengers Annual #3
West Coast Avengers Vol. 2, #37
West Coast Avengers Vol. 2, #38
West Coast Avengers Vol. 2, #39
West Coast Avengers Vol. 2, #40
West Coast Avengers Vol. 2, #41
West Coast Avengers Vol. 2, #42
West Coast Avengers Vol. 2, #43
West Coast Avengers Vol. 2, #44
West Coast Avengers Vol. 2, #45
West Coast Avengers Vol. 2, #46
West Coast Avengers Vol. 2, #47
West Coast Avengers Vol. 2, #48
West Coast Avengers Vol. 2, #49
West Coast Avengers Vol. 2, #50
West Coast Avengers Annual #4
West Coast Avengers Vol. 2, #51
West Coast Avengers Vol. 2, #52
West Coast Avengers Vol. 2, #53
Avengers Vol. 1, #312 
West Coast Avengers Vol. 2, #54
Avengers Vol. 1, #313 
West Coast Avengers Vol. 2, #55
West Coast Avengers Vol. 2, #56
West Coast Avengers Vol. 2, #57
West Coast Avengers Vol. 2, #58
West Coast Avengers Vol. 2, #59
West Coast Avengers Vol. 2, #60
West Coast Avengers Vol. 2, #61
West Coast Avengers Vol. 2, #62
West Coast Avengers Annual #5
West Coast Avengers Vol. 2, #63
West Coast Avengers Vol. 2, #64
West Coast Avengers Vol. 2, #65
Avengers Spotlight #38 
West Coast Avengers Vol. 2, #66
West Coast Avengers Vol. 2, #67
West Coast Avengers Vol. 2, #68
West Coast Avengers Vol. 2, #69
West Coast Avengers Vol. 2, #70
West Coast Avengers Vol. 2, #71
West Coast Avengers Vol. 2, #72
West Coast Avengers Vol. 2, #73
West Coast Avengers Vol. 2, #74
West Coast Avengers Annual #6
West Coast Avengers Vol. 2, #75
West Coast Avengers Vol. 2, #76
West Coast Avengers Vol. 2, #77
West Coast Avengers Vol. 2, #78
West Coast Avengers Vol. 2, #79
West Coast Avengers Vol. 2, #80
West Coast Avengers Vol. 2, #81
West Coast Avengers Vol. 2, #82
West Coast Avengers Vol. 2, #83
West Coast Avengers Vol. 2, #84
West Coast Avengers Vol. 2, #85
West Coast Avengers Vol. 2, #86
West Coast Avengers Annual #7
West Coast Avengers Vol. 2, #87
West Coast Avengers Vol. 2, #88
West Coast Avengers Vol. 2, #89
West Coast Avengers Vol. 2, #90
West Coast Avengers Vol. 2, #91
West Coast Avengers Vol. 2, #92
West Coast Avengers Vol. 2, #93
West Coast Avengers Vol. 2, #94
West Coast Avengers Vol. 2, #95
West Coast Avengers Vol. 2, #96