West Coast Avengers, Vol. 2, Issue 98 (September 1993)
WEST COAST CREDITS!
Writer: Roy Thomas
Penciler: David Ross
Inker:  Tim Dzon
WEST COAST SUMMARY!
U.S. Agent is in a fight for his life against Hangman and his Lethal Legion!
WEST COAST THOUGHTS!
In a dimension that looks a lot like Hell, Satannish has brought four villains back to life to form a Lethal Legion for Hangman (we last saw him in West Coast Avengers #79). These four are Coldsteel, Cyana, Axe of Violence, and Zyklon.
Together, they must return to Earth and kill the West Coast Avengers one by one in exchange for their souls and possibly their lives.
Back at the still-destroyed compound, Hawkeye announces that he's stepping down as the team's chairman in order to spend more time with his wife (and though they don't announce this to the team, they're also trying to have a child). He nominates Wanda to take his place and she is unanimously voted into the position. Though she's reluctant, Wanda eventually accepts the position.
Outside the compound, the heroes discuss the change in the status quo. Spider-Woman talks to War Machine about how her parents are coming to visit from Peru and that they were never around when she was a child. With that mind, she thinks Jim needs to bury the hatchet with Tony Stark. Is Roy Thomas suggesting that Tony is Jim's father figure? I never looked at it that way.
Feeling neglected by the team, U.S. Agent heads into the city looking for some bad guys to beat up.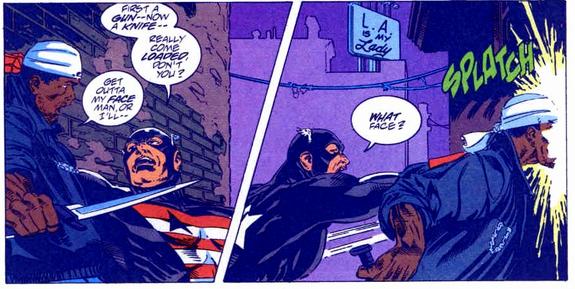 After all that fighting, he walks across the street to a convenience store to quench his thirst. When a beautiful woman comes walking in dressed provocatively, U.S. Agent makes some small talk. She asks if he'll walk her to her car, which he does, and once there she gives him a kiss on the lips. U.S. Agent doesn't buy her act though and wants to know who she is and what she wants. She morphs into Cyana – "You know – as in cyanide," she says. It turns out that her kiss was poisonous, and while U.S. Agent feels the effects of it, he refuses to give in. When he goes to attack her, she freaks out and calls in reinforcements: Zyklon and Steelman!
What comes next is probably the best fight scene from the book's entire run, hands down. I don't know if it was the two issue break or what, but Ross and Dzon bring their A-game here and really sell the danger here. You can feel every punch. And Thomas deserves a lot of the credit too, as U.S. Agent goes from cocky to brave to afraid in the course of a few pages. This is the best U.S. Agent has ever been in this book. And the Lethal Legion? For once, the title has introduced a threat that feels legitimately dangerous.
And though the rest of the team shows up to save the day, they're unfortunately too late to save U.S. Agent from this:

The issue ends with the team standing over a seemingly dead U.S. Agent.
WEST BOAST OR ROAST?
Boast. We're four issues away from the last issue and we've just now uncovered the best issue of the series. Wonder if the next part holds up…
WEST COAST SCENE (OF THE WEEK)!
What do they say about guys who wear trunks over their tights?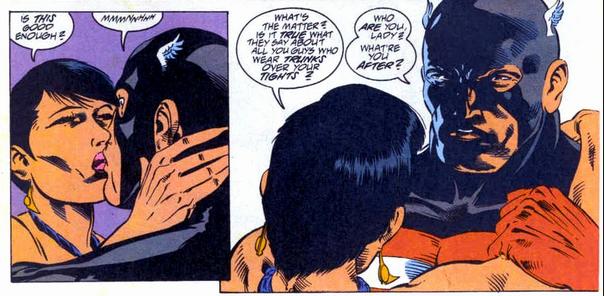 Previously on West Coast Wednesdays…
West Coast Avengers Vol. 1, #1
West Coast Avengers Vol. 1, #2
West Coast Avengers Vol. 1, #3
West Coast Avengers Vol. 1, #4
Avengers Vol. 1, #250
Iron Man Annual #7
West Coast Avenger Vol. 2, #1
The Vision and Scarlet Witch #1
West Coast Avengers Vol. 2, #2
The Vision and Scarlet Witch #2
West Coast Avengers Vol. 2, #3
West Coast Avengers Vol. 2, #4
West Coast Avengers Vol. 2, #5
West Coast Avengers Vol. 2, #6
West Coast Avengers Vol. 2, #7
West Coast Avengers Vol. 2, #8
West Coast Avengers Vol. 2, #9
West Coast Avengers Vol. 2, #10
West Coast Avengers Vol. 2, #11
West Coast Avengers Vol. 2, #12
West Coast Avengers Vol. 2, #13
Avengers Annual #15
West Coast Avengers Annual #1
West Coast Avengers Vol. 2, #14
West Coast Avengers Vol. 2, #15
West Coast Avengers Vol. 2, #16
West Coast Avengers Vol. 2, #17
West Coast Avengers Vol. 2, #18
West Coast Avengers Vol. 2, #19
West Coast Avengers Vol. 2, #20
West Coast Avengers Vol. 2, #21
West Coast Avengers Vol. 2, #22
West Coast Avengers Vol. 2, #23
West Coast Avengers Vol. 2, #24
West Coast Avengers Annual #2
Avengers Annual #16
Silver Surfer #3
West Coast Avengers Vol. 2, #25
West Coast Avengers Vol. 2, #26
West Coast Avengers Vol. 2, #27
West Coast Avengers Vol. 2, #28
West Coast Avengers Vol. 2, #29
West Coast Avengers Vol. 2, #30
West Coast Avengers Vol. 2, #31
West Coast Avengers Vol. 2, #32
West Coast Avengers Vol. 2, #33
West Coast Avengers Vol. 2, #34
West Coast Avengers Vol. 2, #35
West Coast Avengers Vol. 2, #36
West Coast Avengers Annual #3
West Coast Avengers Vol. 2, #37
West Coast Avengers Vol. 2, #38
West Coast Avengers Vol. 2, #39
West Coast Avengers Vol. 2, #40
West Coast Avengers Vol. 2, #41
West Coast Avengers Vol. 2, #42
West Coast Avengers Vol. 2, #43
West Coast Avengers Vol. 2, #44
West Coast Avengers Vol. 2, #45
West Coast Avengers Vol. 2, #46
West Coast Avengers Vol. 2, #47
West Coast Avengers Vol. 2, #48
West Coast Avengers Vol. 2, #49
West Coast Avengers Vol. 2, #50
West Coast Avengers Annual #4
West Coast Avengers Vol. 2, #51
West Coast Avengers Vol. 2, #52
West Coast Avengers Vol. 2, #53
Avengers Vol. 1, #312 
West Coast Avengers Vol. 2, #54
Avengers Vol. 1, #313 
West Coast Avengers Vol. 2, #55
West Coast Avengers Vol. 2, #56
West Coast Avengers Vol. 2, #57
West Coast Avengers Vol. 2, #58
West Coast Avengers Vol. 2, #59
West Coast Avengers Vol. 2, #60
West Coast Avengers Vol. 2, #61
West Coast Avengers Vol. 2, #62
West Coast Avengers Annual #5
West Coast Avengers Vol. 2, #63
West Coast Avengers Vol. 2, #64
West Coast Avengers Vol. 2, #65
Avengers Spotlight #38 
West Coast Avengers Vol. 2, #66
West Coast Avengers Vol. 2, #67
West Coast Avengers Vol. 2, #68
West Coast Avengers Vol. 2, #69
West Coast Avengers Vol. 2, #70
West Coast Avengers Vol. 2, #71
West Coast Avengers Vol. 2, #72
West Coast Avengers Vol. 2, #73
West Coast Avengers Vol. 2, #74
West Coast Avengers Annual #6
West Coast Avengers Vol. 2, #75
West Coast Avengers Vol. 2, #76
West Coast Avengers Vol. 2, #77
West Coast Avengers Vol. 2, #78
West Coast Avengers Vol. 2, #79
West Coast Avengers Vol. 2, #80
West Coast Avengers Vol. 2, #81
West Coast Avengers Vol. 2, #82
West Coast Avengers Vol. 2, #83
West Coast Avengers Vol. 2, #84
West Coast Avengers Vol. 2, #85
West Coast Avengers Vol. 2, #86
West Coast Avengers Annual #7
West Coast Avengers Vol. 2, #87
West Coast Avengers Vol. 2, #88
West Coast Avengers Vol. 2, #89
West Coast Avengers Vol. 2, #90
West Coast Avengers Vol. 2, #91
West Coast Avengers Vol. 2, #92
West Coast Avengers Vol. 2, #93
West Coast Avengers Vol. 2, #94
West Coast Avengers Vol. 2, #95
West Coast Avengers Vol. 2, #96
West Coast Avengers Vol. 2, #97