West Coast Avengers, Vol. 2, Issue 99 (October 1993)
WEST COAST CREDITS!
Writer: Roy Thomas
Penciler: David Ross
Inker:  Tim Dzon
WEST COAST SUMMARY!
As the identity of each member of the Lethal Legion reveals itself, the team discovers that the worst monsters of them all are human.
WEST COAST THOUGHTS!
West Coast Avengers #98 turned out to be best issue of the book's entire run, so the second part to the story carries a lot of expectations. Let's see how it does…
U.S. Agent wakes up to find himself at the table of Lucrezia Borgia in Renaissance Italy where he is stabbed and poisoned. He then finds himself falling through time and space witnessing the atrocities of Nazi concentrations camps, the massacre of Russian peasant farmers, and other grisly murders.  Until finally he wakes up again, only this time he's in a hospital surrounded by his teammates. The doctor didn't think U.S. Agent would survive from the injuries he sustained in last issue's fight, but his team never gave up hope. When Hawkeye tries to compliment U.S. Agent, he takes it the wrong way and they're once again back to threats and bickering.
War Machine and Spider-Woman go to Stella Houston's house to follow up on some possible leads. You might remember her as being the love interest of Jason Roland – the man who would become the Hangman (see West Coast Avengers #76). However, they arrive too late…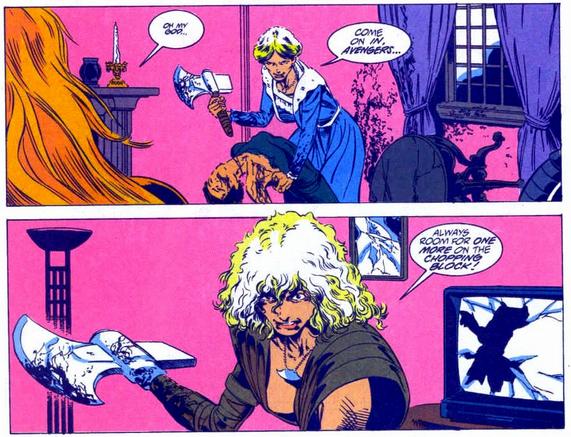 Throughout the course of the fight, they learn that Satannish wants the team dead and that Axe of Terror is actually Lizzie Borden – the famous 19th century murderer.
Oh my goodness! That's…wait, who?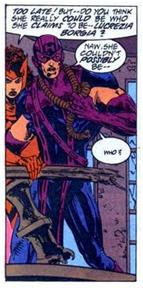 Scarlet Witch and Hawkeye visit Roland's old mansion hoping for some clues. Since it's a dark and scary place, naturally the heroes split up. Once along, Scarlet Witch is confronted by Cyana, who reveals herself to be Lucrezia Borgia. After Hawkeye survives an attack from the Hangman, Wanda tells him who Cyana really is, creating one of the most perfect Hawkeye moments ever (see left).
Back at the hospital, U.S. Agent has had enough and suits up, despite Mockingbird's protests. She confesses to him that she'll be quitting the team so that she and Clint can start a family. But before U.S. Agent can fully respond, Coldsteel and Zyklon attack them. Through the fight, it's revealed that Coldsteel is actually Josef Stalin and Zyklon is really Henrich Himmler. Even though War Machine comes in to help, the villains manage to get away with Mockingbird as a hostage.
When Hawkeye returns, he's not pleased. And though U.S. Agent seems to take responsibility for her capture, Hawkeye is surprisingly mature about the whole thing. Wanda suggests a plan using one of Agatha Harkness' books to open up a window to Satannish's dimension. Through the window, Satannish confirms that the Lethal Legion is the reincarnated souls of some of history's most terrifying monsters and that he's in need of souls.
Hawkeye takes a shot at Satannish, but the window closes. Just when things can't get any worse, Mephisto arrives and offers his help.
And now we're ready for the 100th issue of West Coast Avengers. Or are we?
WEST BOAST OR ROAST?
Boast. While not as good as last issue, this is a good read. Again, the violence really makes the threat feel legitimate. It's a shame that the book find its footing this close to the ends of the series.
WEST COAST SCENE (OF THE WEEK)!
That's not what I meant when I said that Spider-Woman needs to get the axe…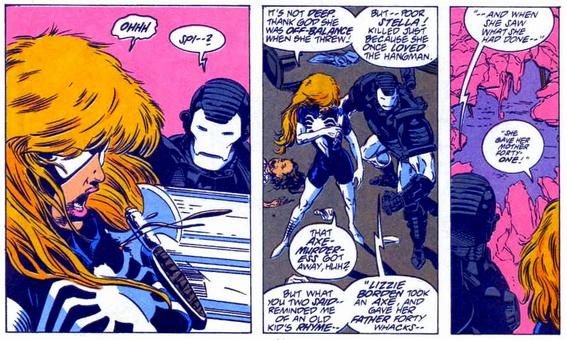 Also, I hope if I ever have an axe in my chest, I'll remain that calm.
Previously on West Coast Wednesdays…
West Coast Avengers Vol. 1, #1
West Coast Avengers Vol. 1, #2
West Coast Avengers Vol. 1, #3
West Coast Avengers Vol. 1, #4
Avengers Vol. 1, #250
Iron Man Annual #7
West Coast Avenger Vol. 2, #1
The Vision and Scarlet Witch #1
West Coast Avengers Vol. 2, #2
The Vision and Scarlet Witch #2
West Coast Avengers Vol. 2, #3
West Coast Avengers Vol. 2, #4
West Coast Avengers Vol. 2, #5
West Coast Avengers Vol. 2, #6
West Coast Avengers Vol. 2, #7
West Coast Avengers Vol. 2, #8
West Coast Avengers Vol. 2, #9
West Coast Avengers Vol. 2, #10
West Coast Avengers Vol. 2, #11
West Coast Avengers Vol. 2, #12
West Coast Avengers Vol. 2, #13
Avengers Annual #15
West Coast Avengers Annual #1
West Coast Avengers Vol. 2, #14
West Coast Avengers Vol. 2, #15
West Coast Avengers Vol. 2, #16
West Coast Avengers Vol. 2, #17
West Coast Avengers Vol. 2, #18
West Coast Avengers Vol. 2, #19
West Coast Avengers Vol. 2, #20
West Coast Avengers Vol. 2, #21
West Coast Avengers Vol. 2, #22
West Coast Avengers Vol. 2, #23
West Coast Avengers Vol. 2, #24
West Coast Avengers Annual #2
Avengers Annual #16
Silver Surfer #3
West Coast Avengers Vol. 2, #25
West Coast Avengers Vol. 2, #26
West Coast Avengers Vol. 2, #27
West Coast Avengers Vol. 2, #28
West Coast Avengers Vol. 2, #29
West Coast Avengers Vol. 2, #30
West Coast Avengers Vol. 2, #31
West Coast Avengers Vol. 2, #32
West Coast Avengers Vol. 2, #33
West Coast Avengers Vol. 2, #34
West Coast Avengers Vol. 2, #35
West Coast Avengers Vol. 2, #36
West Coast Avengers Annual #3
West Coast Avengers Vol. 2, #37
West Coast Avengers Vol. 2, #38
West Coast Avengers Vol. 2, #39
West Coast Avengers Vol. 2, #40
West Coast Avengers Vol. 2, #41
West Coast Avengers Vol. 2, #42
West Coast Avengers Vol. 2, #43
West Coast Avengers Vol. 2, #44
West Coast Avengers Vol. 2, #45
West Coast Avengers Vol. 2, #46
West Coast Avengers Vol. 2, #47
West Coast Avengers Vol. 2, #48
West Coast Avengers Vol. 2, #49
West Coast Avengers Vol. 2, #50
West Coast Avengers Annual #4
West Coast Avengers Vol. 2, #51
West Coast Avengers Vol. 2, #52
West Coast Avengers Vol. 2, #53
Avengers Vol. 1, #312 
West Coast Avengers Vol. 2, #54
Avengers Vol. 1, #313 
West Coast Avengers Vol. 2, #55
West Coast Avengers Vol. 2, #56
West Coast Avengers Vol. 2, #57
West Coast Avengers Vol. 2, #58
West Coast Avengers Vol. 2, #59
West Coast Avengers Vol. 2, #60
West Coast Avengers Vol. 2, #61
West Coast Avengers Vol. 2, #62
West Coast Avengers Annual #5
West Coast Avengers Vol. 2, #63
West Coast Avengers Vol. 2, #64
West Coast Avengers Vol. 2, #65
Avengers Spotlight #38 
West Coast Avengers Vol. 2, #66
West Coast Avengers Vol. 2, #67
West Coast Avengers Vol. 2, #68
West Coast Avengers Vol. 2, #69
West Coast Avengers Vol. 2, #70
West Coast Avengers Vol. 2, #71
West Coast Avengers Vol. 2, #72
West Coast Avengers Vol. 2, #73
West Coast Avengers Vol. 2, #74
West Coast Avengers Annual #6
West Coast Avengers Vol. 2, #75
West Coast Avengers Vol. 2, #76
West Coast Avengers Vol. 2, #77
West Coast Avengers Vol. 2, #78
West Coast Avengers Vol. 2, #79
West Coast Avengers Vol. 2, #80
West Coast Avengers Vol. 2, #81
West Coast Avengers Vol. 2, #82
West Coast Avengers Vol. 2, #83
West Coast Avengers Vol. 2, #84
West Coast Avengers Vol. 2, #85
West Coast Avengers Vol. 2, #86
West Coast Avengers Annual #7
West Coast Avengers Vol. 2, #87
West Coast Avengers Vol. 2, #88
West Coast Avengers Vol. 2, #89
West Coast Avengers Vol. 2, #90
West Coast Avengers Vol. 2, #91
West Coast Avengers Vol. 2, #92
West Coast Avengers Vol. 2, #93
West Coast Avengers Vol. 2, #94
West Coast Avengers Vol. 2, #95
West Coast Avengers Vol. 2, #96
West Coast Avengers Vol. 2, #97
West Coast Avengers Vol. 2, #98
West Coast Avengers Annual #8