Where is Ben Affleck's Birth Certificate?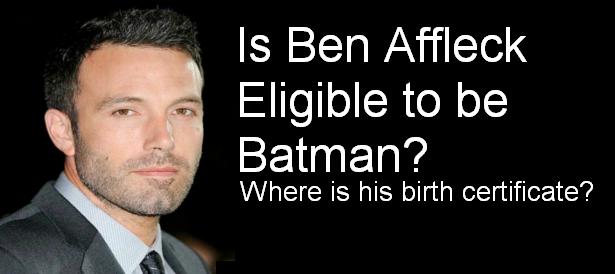 Ben Affleck wants to become America's next Batman in 2015. But what do we really know about Ben Affleck?
He claims he was born in California. And then he claims he was born in Berkeley. Well, which is it, Ben Affleck? Is he even American? Has anyone seen his birth certificate? Do we want a man born in – oh, I don't know – Kenya, to be in the sacred Batcave? For all we know, Ben Affleck's parents are alive and well!
If the rumors I've started are true, Ben Affleck hates America. How much does he hate America? Ben Affleck was personally involved in Pearl Harbor, one of the largest attacks on America. Do we want this kind of man instilling fear in the hearts of our criminals?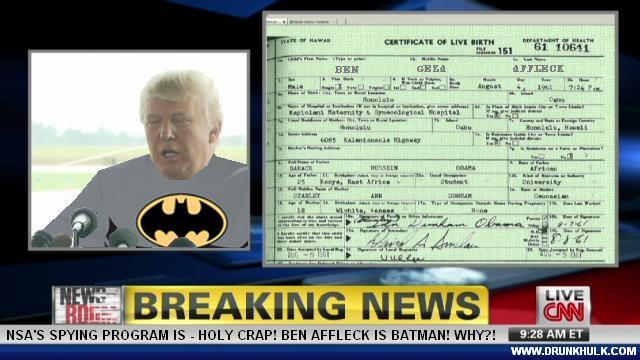 Did you know that there is no anagram for "Ben Affleck"? Looks like someone tried a little too hard to come up with a fake name. Right, Ben Affleck? Because even a fake name like "Sean Penn" comes up with "I want to destroy America!"
As a Bather, I won't rest until I see Ben Affleck's birth certificate. And even then, I can't promise that I'll be satisfied. Apparently he received an honorary doctorate from Brown University. SO NOW HE CAN PERFORM SURGERY ON INNOCENT AMERICANS! Well, let's see those honorary college transcripts, Dr. Ben Affleck. Next thing you know, he's going to tell us how we should be getting our medical care.
Is everything a reindeer game to you, Ben Affleck?
How would you feel if Santa Claus was portrayed by Tim Allen or if Jesus was played by someone like Jim Caviezel? Batman is too precious and sacred to Americans to be played by just anyone. The next thing you know, Batman will be played by an Englishman! Doesn't anyone read the Bible anymore?
Please sign this petition. If we can get 100,000 people to sign, then Ben Affleck will know that 100,000 people (some even real) want to see his birth certificate, which might make him feel weird and slightly uncomfortable.